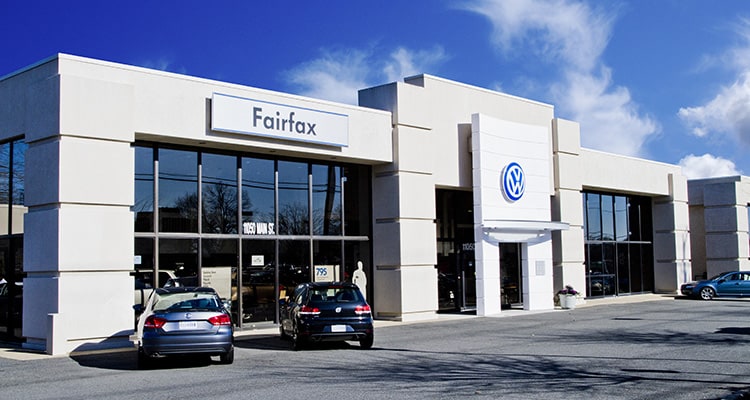 Get to Know Us at Rosenthal Fairfax Volkswagen, in Fairfax, VA
We at Rosenthal Fairfax Volkswagen are very eager to show off the incredible selection of vehicles that we have in stock, as well as the undeniable selection of resources at your fingertips. With our help, we know that we can easily and seamlessly help you to enjoy the car buying or servicing process. When the Fairfax, VA area chooses us, they make the best choice for themselves and their family. Read on to get to know us in the details below:
Convenient Location
One of the reasons that our incredible customers in the Arlington, VA, Chantilly, VA, Herndon, VA, and Annandale, VA areas are constantly coming back to us is because of our great location. We make things easy for you, and when we work with you, in your area, we are certain that you can have an enjoyable and memorable experience.
We area conveniently located in the Fairfax area, and are easily accessible from Centreville, VA as well. Finally, with our dealership just off main road, you won't have to spend time searching for us. You can get right to the point and right to the car buying process.
Dealership Overview
At Rosenthal Fairfax Volkswagen, you can really get everything you need in just one location. We wanted to provide you with a dealership overview, so that you can get exactly what you need from us, no matter what. Our dealership is delighted to be able to provide you with an incredible selection of used vehicles, new models and of course the service and financial departments that you may need to lean on.
Our new inventory department is fully stocked with the latest and greatest Volkswagen models. We have a huge selection of incredible vehicles that are ready to send you out full speed ahead on your next great adventure. With many of these models comes a warranty that you can trust. When you sift through this great inventory you will be sure to find the perfect model to elevate your lifestyle.
If you aren't quite ready to make the commitment to buying new, we also have an exciting used selection for you to check out. This inventory offers up with a great list of gently used models. We also have models that are outside the usual selection of Volkswagen options. Finally, with a certified pre-owned inventory as well, you will have a little extra peace of mind when you buy used.
Another reason our Fairfax, VA customers return to us time and time again, is because we offer an undeniable list of services. Keeping your vehicle in the best possible shape is a great way to ensure that it will last you a lifetime. With that being said, we are the place to call if you need any type of maintenance or assistance. With our routine oil changes, tire rotations and state inspections, we can really help you to drive off in confidence. And you can use our online appointment request for easy scheduling.
Finally, we are proud to also offer up a great deal of online resources to help make your life easy. With an online financing pre-approval form, as well as an online scheduling form for service, we know you can easily get stuff done from home. These great options, along with many more are all at your fingertips.
We at Rosenthal Fairfax Volkswagen are very eager to welcome the Fairfax, VA and surrounding areas to visit us at our dealership. We have a great selection of resources and we welcome you to visit us today with any questions. We truly can't wait to work with you!