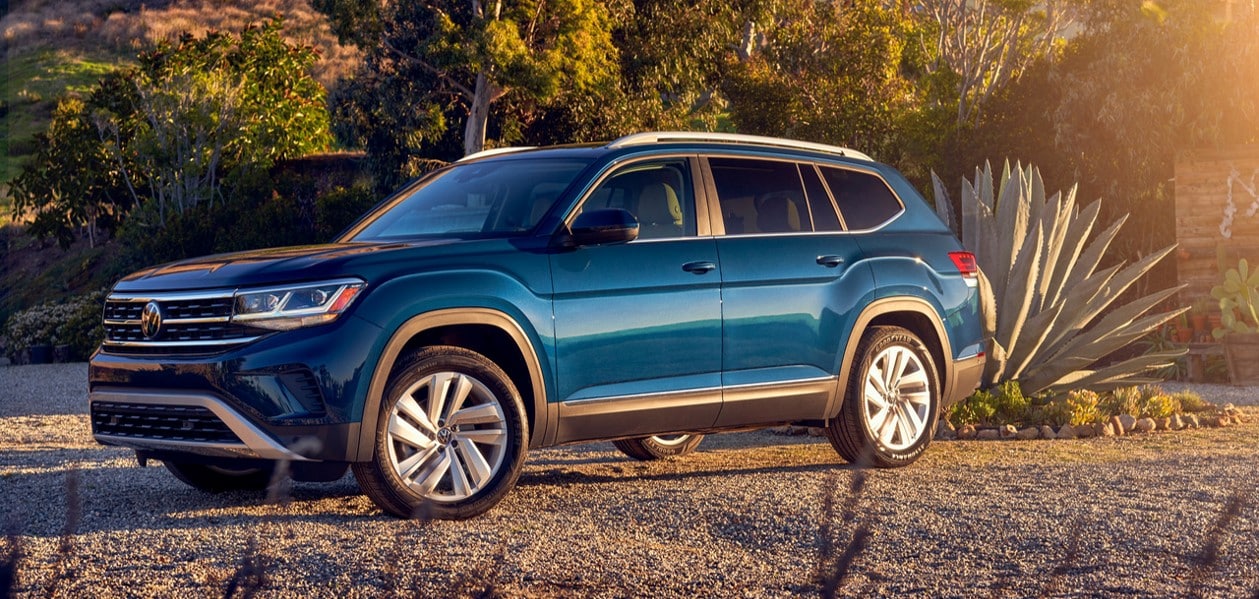 Introducing the 2021 Volkswagen Atlas SUV
The 2021 Volkswagen Atlas aims to appeal to a diverse range of drivers. The Volkswagen SUV contains three rows, intuitive instruments in the interior, and easy-to-learn navigational controls. The new SUV also comes fitted with safety features that keep the driver and passengers protected while in motion. Do you have lots of errands to run around Chantilly, VA? The Atlas won't feel like a burden for you to take out for a spin. The VW SUV makes driving fun again and entertains anyone tagging along for the ride.
Performance on the Road
Your vehicle should adjust to your driving, not the other way around. No matter what trim you need, the Volkswagen Atlas remains compatible with a towing hitch in the rear. However, we base the capacity on configurations under the hood. The 2021 VW Atlas comes fitted with either a turbocharged 2.0-liter four-cylinder engine or an available 3.6-liter V6 engine. You can get a maximum towing capacity of 2,000 pounds when you choose an Atlas model equipped with a four-cylinder engine. The V6 increases the maximum towing capacity to 5,000 pounds when properly equipped with a factory-installed trailer hitch.
The next time you leave Herndon, VA, you'll feel comfortable cruising unfamiliar streets and highways. You will not mistake the handling of the Atlas with the average compact SUV, as the Volkswagen SUV turns easy and makes its way through curves without apprehension. When moving on dirt and gravel roads, the suspension stays soft, greatly reducing bumpiness.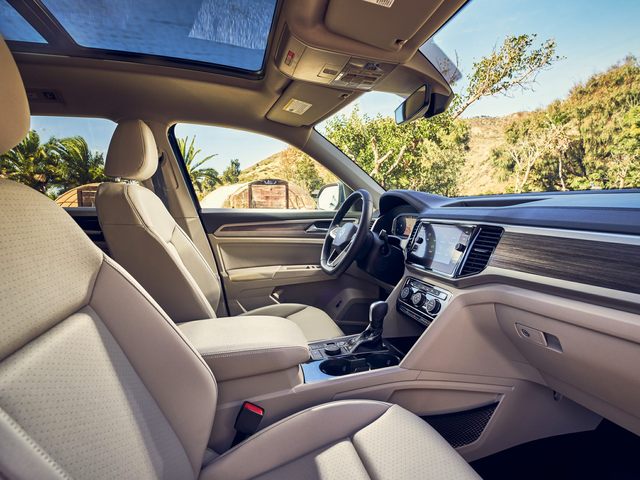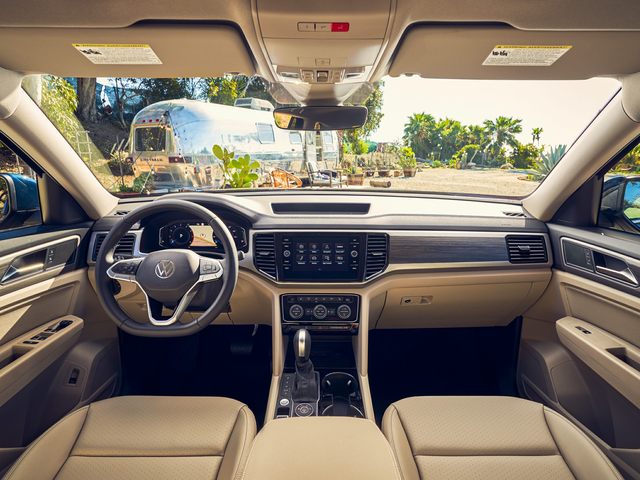 Interior Comfort
Due to the large wheelbase, passengers seated in the back of the Volkswagen Atlas have ample legroom, even with tall drivers. You'll get 41.7 inches of legroom in the first row. Second- and third-row passengers will get 37.6 and 33.7 inches, respectively. When unlatching the middle seats for access to the rear, the first two seats will tilt simultaneously. The configurable interior makes it possible to keep two child booster seats attached to their seating while other riders enter and exit from the back. When folding the third row, interior towing space measures 55.5 cubic feet. If you do not fold the rear seats, capacity measures 20.6 cubic feet. Do you plan on taking a solo trip away from Annandale, VA? Your luggage should fit inside without a struggle, thanks to the model's max cargo volume of 96.8 cubic feet.
High Tech Controls
Do you want to take your favorite infotainment with you as you cruise around Arlington, VA? Looking at the 6.5-inch capacitive touchscreen display of the new Atlas, the included software uses Bluetooth, Android Auto, and Apple CarPlay to deliver your preferred music and podcasts. You'll get USB-C and SD card input slots below the controls for heat and air conditioning, with a spacious pocket for storing smartphones. All models come standard with a rear-facing camera, and the Atlas SEL Premium models offer a new Overhead View Camera that helps make parking in tight spots much easier. Additional driver-assist technologies come as standard or optional systems. You can enjoy the confidence of available features like Forward Collision Warning, Parking Steering Assistant, Blind Spot Monitor, Dynamic Road Sign Display, and more as you make your way around Centreville, VA.
Volkswagen Atlas Trim Levels
The 2021 Volkswagen Atlas comes in eight trim levels to accommodate a diverse range of Alexandria, VA drivers. You can choose from the following Atlas trim levels at Fairfax Volkswagen:
Atlas S
Atlas SE
Atlas SE w/ Technology
Atlas SE w/ Technology R-Line
Atlas SEL
Atlas SEL R-Line
Atlas SEL Premium
Atlas SEL Premium R-Line
Test Drive a New VW Atlas
If you want to find a quality SUV for sale, come and see us at Fairfax Volkswagen and we'll get you up to speed on everything that the Volkswagen Atlas can do for you. We will set up a test drive, and you can take your time adjusting the tech features to your liking. Would you like to take home a new VW for sale with an affordable SUV lease? We can help. We look forward to your visit to our Fairfax VW dealership!
Contact Us About the VW Atlas SUV
Fairfax Volkswagen

11050 Fairfax Blvd.
Fairfax, VA 22030